Running a Product Business can be hard and unless you're well organized, it will be impossible to run it in the long run. Trello can help you manage your products and in this tutorial, I will show you how I manage my WordPress products with Trello.

If you don't want to read, you can check the video at the bottom of the article.
What is Trello?
If you have not yet heard of Trello, Trello is an application that helps you create to-do lists. You can create various boards with unlimited lists.
Each list can have unlimited cards and each card holds information related to a task. Cards can have checklists, attachments, due dates, members and a lot of other things. I'll let you explore that on your own. Let's now focus on managing a WordPress Product with Trello.
Create your WordPress Product Board
Of course, you will create a new board for your WordPress product. If you have a team, create a team and attach the board to the team. By doing that, everybody on your team will have access to the board.
If you wish to show the whole roadmap for your users, make it publicly available. Otherwise, make it private, especially if you're storing sensitive data to it.
This is an example of what we are going to create:


Creating Board Lists
When creating board lists, you need to take into account what your WordPress Product is about. I will simplify things here and create something general which you can apply to a plugin, theme or any other product.
The Info List
The info list is the first column that you'll see when opening your WordPress Product board. Since Trello is moving from left to right, you don't want your info list to be to the right because you might scroll indefinitely in a few months.
This list will hold various information. For each information, create a Card so you can keep it simple. You will also know where the information you need is stored. I tend to create several info cards:
General Information: What is this product about? The initial idea and thoughts on it.
Graphics: You can place colors, logos and other assets here.
Site: If you're having a site, have site information here. Don't store sensitive data if creating a public board
Alternatives/Competiton
Feature Requests List
When managing a WordPress Product, you will most likely get various feature requests. That is a great thing because it means that your product is being used. If you're managing a freemium WordPress Product, some of the features might become a premium feature.
Each card is a separate feature. In this card paste the request text and if possible add additional information such as:
Date of the request
Source of the request
User Information
Link to the request (for example a wp.org forum)
Backlog List
The backlog list of your WordPress product will contain all the features, refactoring and other stuff that is yet to be done. Each card holds information on what you want to do, checklists and such. Don't set due-dates and members to them yet.
Usually, a feature request might get into this list also, if approved. Also, this cards can be marketing related or site related. Maybe you have some documentation to write or publish a new blog post about your product.
Version Lists
This is where all happens. Version lists are list that you will create for each version. Each list will have the name of the next version you tend to publish.
When you've discussed which backlog cards are going into that version, you move them there. Then, if you're working in a team, assign one or more members to that card. If you're working on a schedule, be sure to add due-dates to cards. That way, Trello will inform all members assigned to that card when the date is close.
New version lists are not going to the right. Since Trello is moving from left to right, you don't want to scroll 20 old version lists to get to the 21st.


So what I do here is double-clicking between the Backlog list and the latest Version list. There will appear a simple form to create a new list and when created, it will appear in between those lists. That way, you're keeping Backlog in its previous place and moving the old Version list to the right.
Labels for your WordPress Product
Trello also allows labels so you can create unlimited labels for easier management of your cards. This is up to you on how you want to manage your cards with labels. Since there is no "Done" column, I like to have labels for statuses.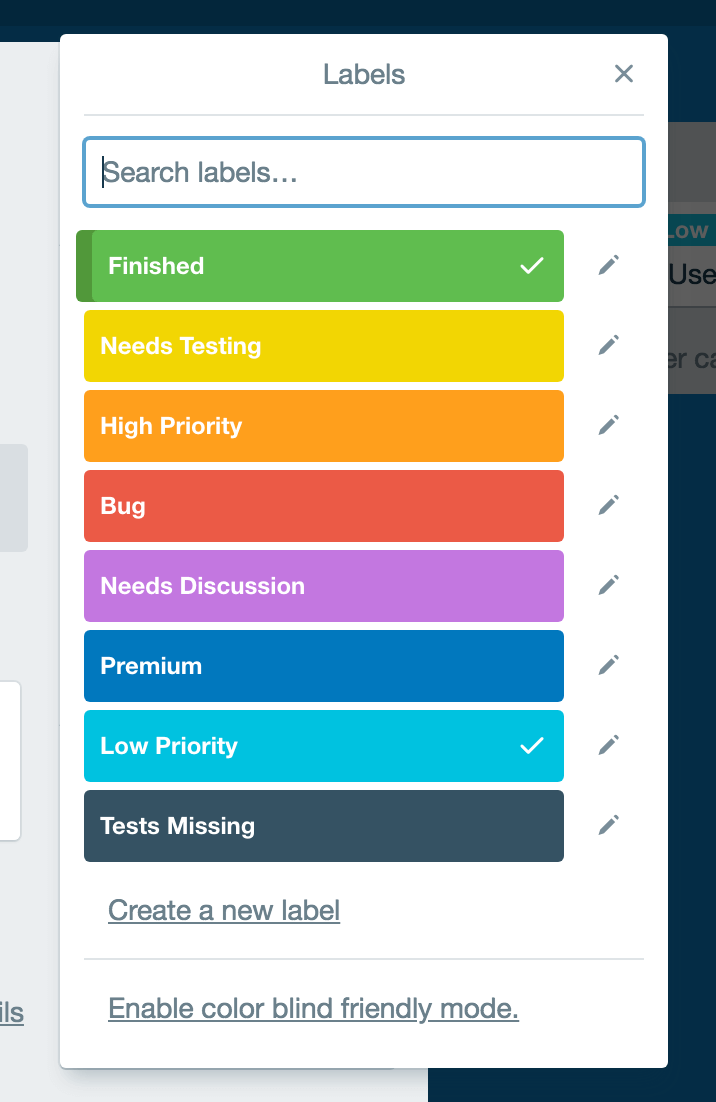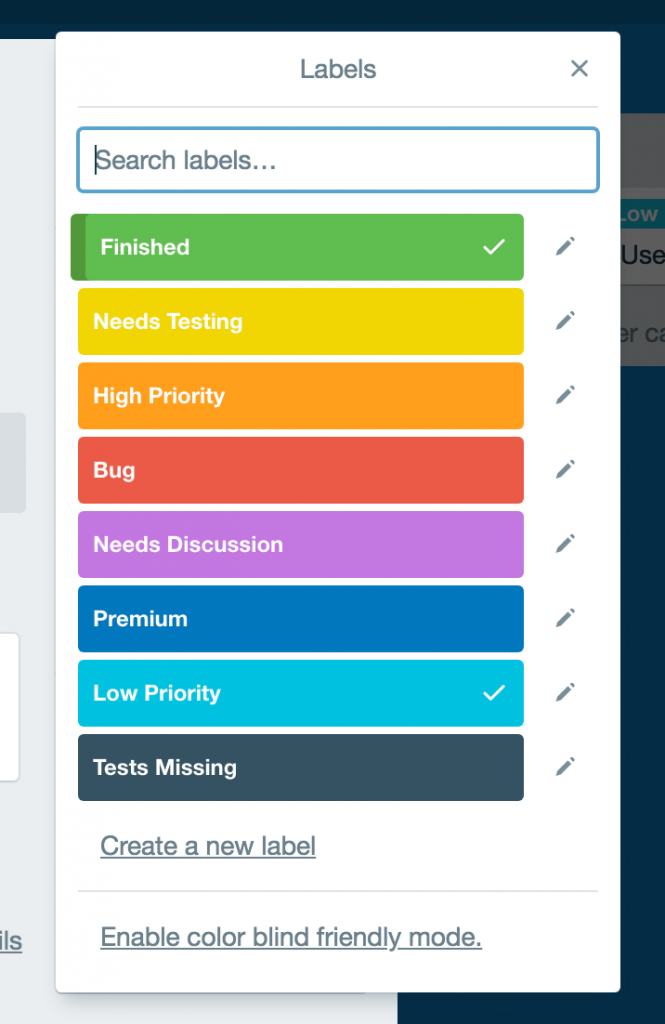 Labels can also be used for departments and such so you can have a label for Marketing, Blog, Development and such.
As I am usually working by myself or with a small team I tend to create labels for statuses. So here are some ideas for color usage:
Green: Finished, Completed, Merged
Blue: Premium, Shipped
Light Colors: Priorities, Departments, Informational
Black: testing, branches, documentation
Purple: Idea, Info, Discussion
Red: Bug, Error
Video Explanation
If you want to see how this all is created on on Trello, watch my video here:
Coying the Board
You can also copy the board I have done with a few more cards and markdown set for Feature requests so you can copy that when creating new requests.
To copy this board for your own WordPress Product, go to top right Show Menu and then on More and Copy Board.
Conclusion
Managing a WordPress Product can be hard but with tools such as Trello, your life (and the life of team members) gets a bit easier.
Be sure to try Trello out and if you have any other Tools that you're using for managing your products or even jobs, let us know in the comments below.
Become a Sponsor